Floral themes, patterns and motifs are a timeless wardrobe staple that put a whimsical spin on your look and typically shine brightest in the spring and summer months. Well, considering that we've now crossed over into that eagerly anticipated 'BST' time zone and the refreshing sunshine is becoming a more prominent daily feature, we thought it'd be fun to assemble some floral-focused looks for you to experiment with over the coming weeks and months.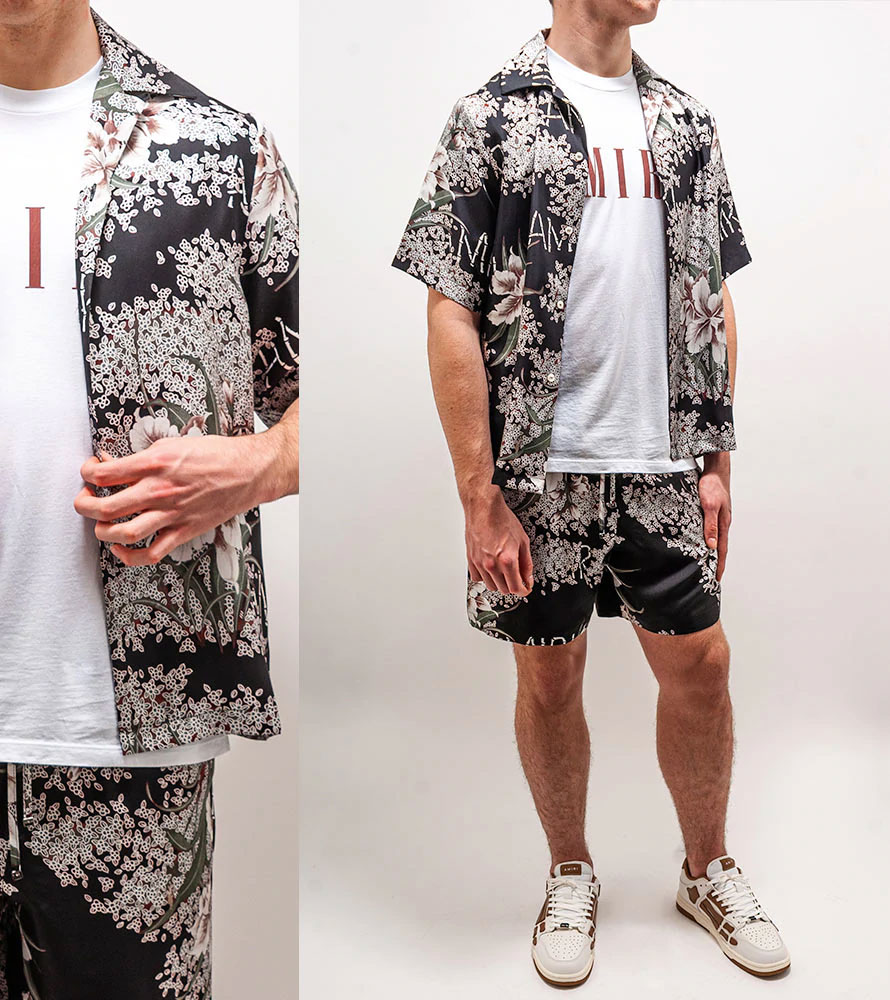 Our featured look is giving serious tropical Island getaway vibes with Amiri's exclusive 'Hibiscus Tiki' motif playfully referencing traditional Polynesian iconography. It's as bold and beautiful as you'd expect any floral-themed outfit to be, yet simultaneously subdued at just the right level with an almost monochrome palette that's enriched by a few spatterings of muted colour. We've chosen to layer in a classic white logo t-shirt from Amiri, but you can go without any additional layers for an even more relaxed vibe.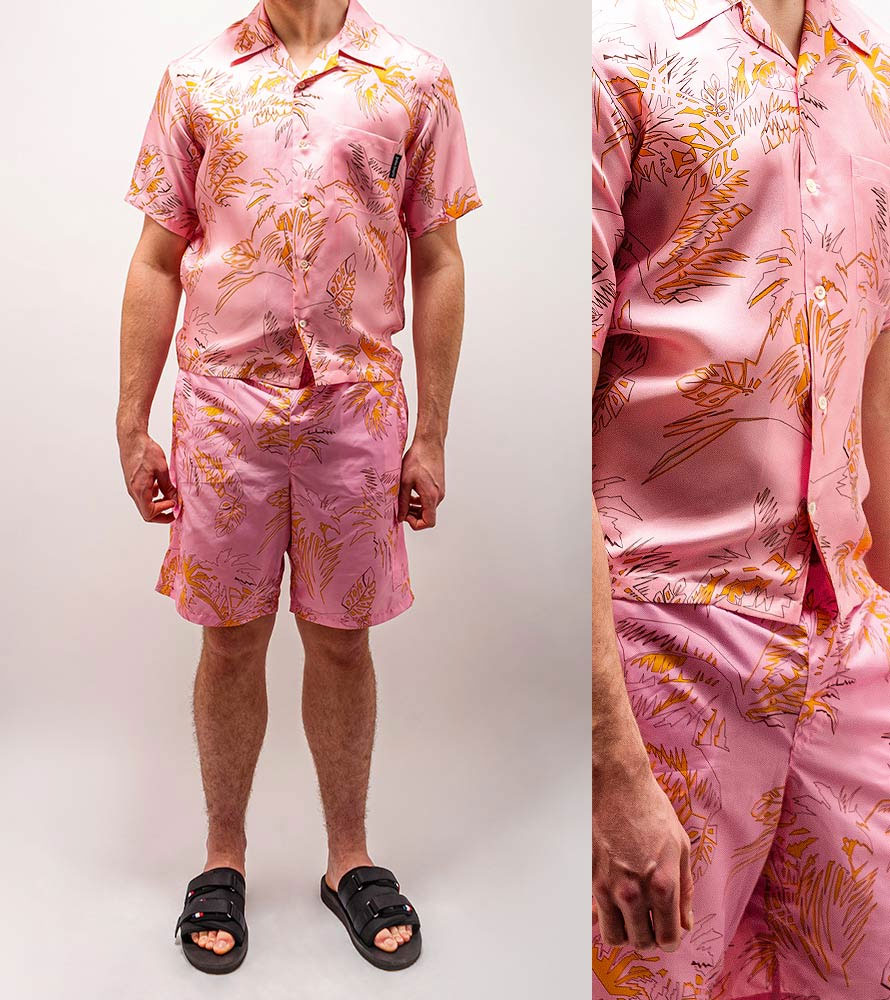 This Palm Angels set makes an indelible mark on proceedings with a passionate pink colour dye and palm tree leaf graphics that offer a quite literal interpretation of the label's very name. The sumptuous silken fabric adds an air of luxurious decadence while its natural properties make this outfit a delight to wear in the baking heat of the sun. Made for sun-laden beach vacations and poolside fiestas, this is a look that very much celebrates the summer season and the good times associated with it.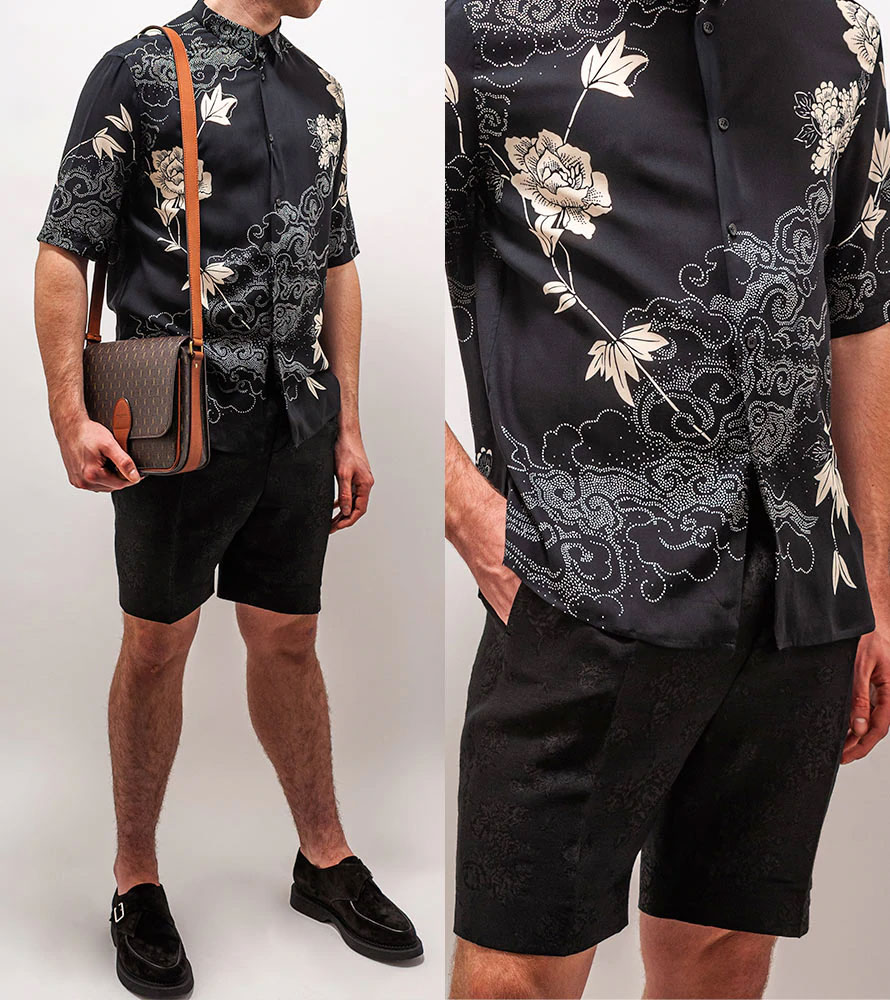 Saint Laurent have experimented heavily with floral patterns this season, an observation that has very much provided the inspiration for this look. Floral graphics don't always need to be accompanied by loud and garish colours, as demonstrated expertly by the monochromatic tones utilised in the both the featured cloud motif shirt and tailored shorts. There's a certain air of quiet refinement that permeates the look, one that's very much in keeping with the quintessential Saint Laurent aesthetic. And yet Anthony Vaccarello manages to achieve this without sacrificing an inch of flair or any of the scrupulous detailing that continues to keep Saint Laurent collection fresh and exciting.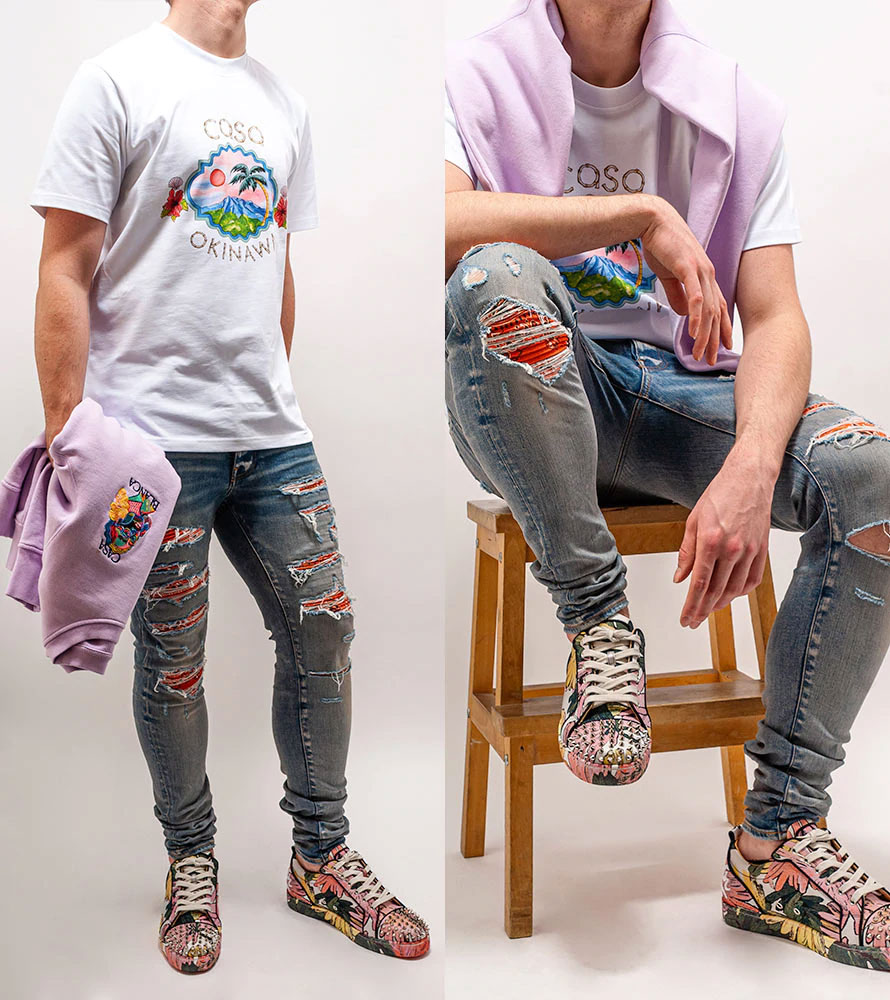 Christian Louboutin's Hanabi flower-printed 'Fun Louis' trainers are the focal subject of this outfit ensemble, pulsating with a colourful energy that's matched dutifully by the cool pastel tones of the Casablanca tops and the sharp injections of colour in the Amiri denim. Mr Louboutin has built his brand off the strength of his prints, patterns and graphics and this latest silhouette is a testament to his wonderfully creative instinct. It'll almost certainly remain as the statement style in your outfit, irrespective of the garments you choose to pair with it. Off-duty weekend looks are our preference with this particular trainer, but as with almost any Louboutin shoe, you can afford yourself a little bit of creative liberty when it comes to the formality level of your total outfit.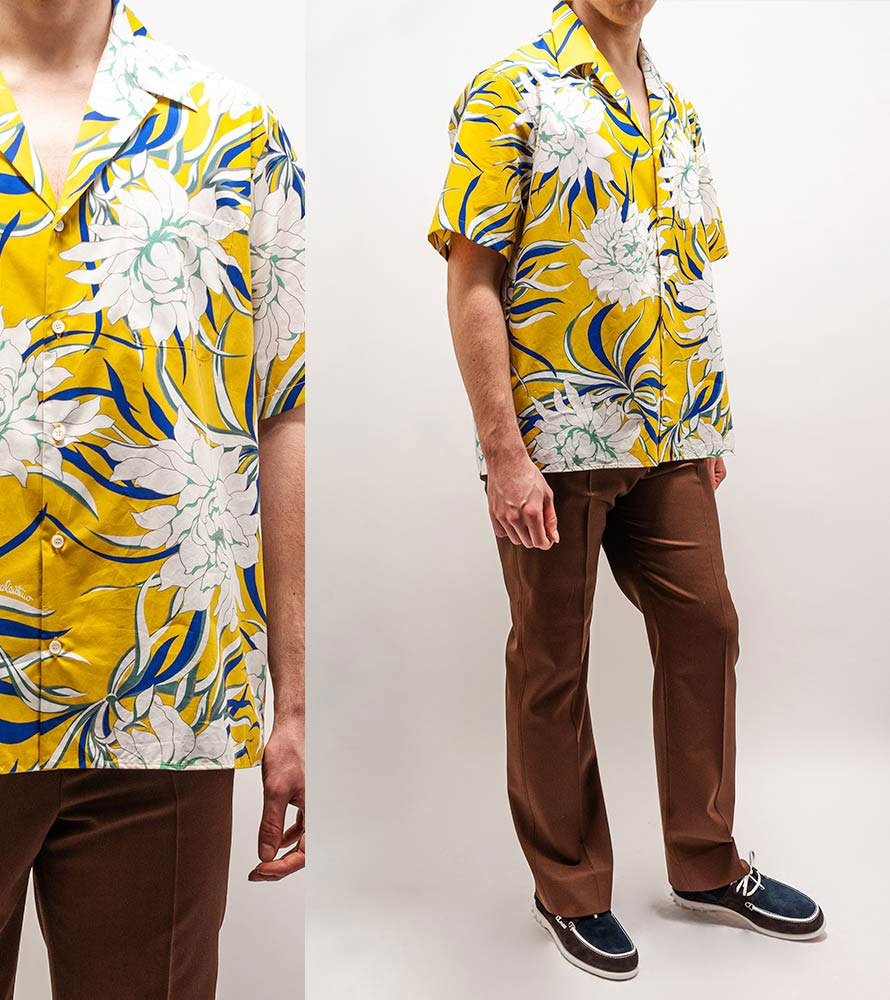 Valentino's peony-printed bowling shirt is the life and soul of a look that embraces the aftersun spirit of a summer vacation (think long, lazy promenade walks against the backdrop of the setting sun and early evening, al fresco dinners by the bayside). The loose, airy cuts of the fabrics lend themselves perfectly to the chilled experiences and activities that you'll no doubt look forward to at the end of a hot, energy-sapping afternoon. A vibrant colour palette and a head-turning floral motif give this look a fun twist, should you be in the mood for a sophisticated evening soirée after you've recharged your batteries.